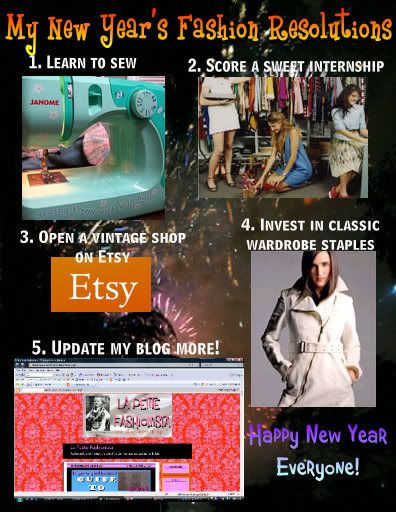 I can't believe a new year is ahead of us already! It seems like were were just ringing in 2007. I'm so excited to see what 08' has to hold! I always make a New Year's resolution and I'm pretty good at sticking to them. This year I've made up a list of my 2008 New Year's Fashion Resolutions:
1. Learn to Sew: A sewing machine was at the top of my Christmas list this year. Now that I have one I can't wait to begin learning the basics of sewing and start some cute projects! I decided if I want to be in the fashion industry knowing about the construction of clothing is vital.
2. Score a Sweet Internship: This summer I'd like to find a local boutique or magazine with a fashion department. I'd like to learn as much as I can about the industry and take advantage of all the opportunities that come my way.
3. Open up a Vintage Shop on Etsy: I've been scouring local thrift shops and consignment stores for unique, trendy vintage finds. Coming in January will be a La Petite Fashionista vintage boutique on etsy! I can't wait to share my love for vintage shopping with the world.
4. Invest in Classic Wardrobe Staples: I'd like to find some classic pieces that my wardrobe is missing. I'd even splurge on some if I knew they would never go out of style. Particularly a cashmere sweater, trench, and pair of jeans tailored to fit me perfectly.
5. Update my Blog more: Since I've been in college I've definitely not been fulfilling my blogging duties! So I'm going to make more time to make sure I'm making my blog the best it can be.
xoxo, Lauren