Ever since I first tried surfing during a trip to Hawaii about 6 years ago I've loved it. Although I don't get to go very often when I do I enjoy every wave I ride. I strongly suggest taking a lesson if you ever get the opportunity!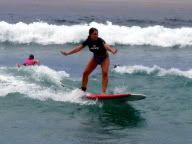 (this is me a couple years ago on the North Shore!)

The summer is the perfect time to channel your inner surfer girl; whether you sport a hawaiian print suit, skimpy boardshorts, or soothe your skin with tropical apres surf lotion. Even watching an epic surf film like Endless Summer will be sure to put you in a beachy mood. I don't know what it is about surfer girls, but somehow even with their soaking bathing suits and sundrenched hair they manage to look effortlessy cool and have perfected summer style.