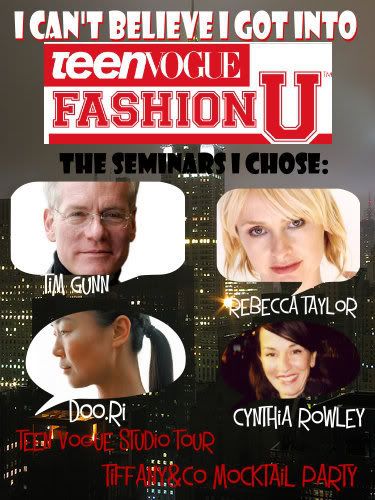 I applied to Teen Vogue Fashion U over the summer and I've been anxiously awaiting my acceptance/denial email! This Friday I saw the message i've been waiting for and I got in! So, i quicklyyyyy tried to pick out the classes I wanted. I decided to go more for designers than brand name seminars because I figured the opportunity to speak to designers or even just hear them talk about their experiences is once in a lifetime. I absolutely CAN NOT WAIT! I've already got my hotel & plane booked for October.
Here's a quick summary of each of the events:
Rebecca Taylor: Talking Fashion
Graduate design school one day, get your own line the next-well, nothing is that easy. Rebecca Taylor will tell you how she got her foot in the door of the fashion industry and navigated getting into the top specialty boutiques nationwide. Taylor will also reveal how she keeps her soft, feminine designs fresh and fashion-forward, and offer inspiration to anyone who has their own unique design sensibility.
Winning Style: Doo.Ri Talks Fashion
The 2006 CFDA/Vogue Fashion Fund winner knows what it takes to stand out and excel in fashion. Doo.Ri Chung started her business in the basement of her parents' dry-cleaning store, and now her sophisticated and sleek designs are known worldwide. Doo.Ri will tell you how she got started, what inspires her designs, and how you can turn your passion into a profession.

Dooney & Bourke: Exclusive TEEN VOGUE Edit Floor Tour
Wonder what's in the fashion closet? Or what our editors' offices are really like? Dooney & Bourke and TEEN VOGUE will take you on an editor-guided tour to see where it all happens. Experience the latest fashions, shoes, and accessories that TEEN VOGUE will feature in upcoming months, and you just might get a sneak peak at a future issue. Plus, you will be the first to see Dooney & Bourke's latest celebrity ad campaign, unveiling to the public this holiday season.
Cynthia Rowley: A Fun, Fashionable Life
If one word described designer Cynthia Rowley, it would be "multi-tasker." Inspired by everything from colorful candy to art to vintage finds, Cynthia Rowley's signature looks are flirty, yet sophisticated, and above all, fun. Cynthia will bring her charisma and energy to the classroom, giving you fabulous advice on how to live a fun, fashionable life. You'll learn how Cynthia Rowley expanded her popular fashion line to create books and products that help style-savvy women and men (and kids!) live the good life.

Fashioning Your Career with Tim Gunn
Join former Parson's fashion chairman, and Project Runway notable Tim Gunn for a lively discussion on fashion education, the latest trends in the fashion industry, and the many available career paths. Bring your questions: the seminar will also include a post-talk Q&A discussion.
Tiffany & Co.: A Night of Style
Tiffany & Co. and TEEN VOGUE invite you to an unforgettable evening of film and fashion in New York's famed Tribeca neighborhood. Join us at Tribeca Cinemas for a chic "mock"tail reception featuring Tiffany blue specialty drinks and a menu inspired by the parties held at Fashion Week. Stay for our exclusive screening of Seamless, a behind-the-scenes look at the intensely competitive world of the fashion industry. The film follows ten fashion-design hopefuls as they vie for the top prize created by VOGUE magazine and the Council of Fashion Designers of America, and features many of your favorite designers and VOGUE's Anna Wintour.
Yeah.. So I am definitely going to need to do some shopping!
xoxo, lauren