My weekend at Teen Vogue's Fashion U was unforgettable! I stood five feet away from designers whose collections i've oogled over on style.com, asked them questions about how to get my start in the industry, and met so many girls who are obsessed with fashion as i am!
Okay.. enough blabbing.. let's get to the pictures!
The first night was a fashion show featuring Erin Fetherston's Go International Collection for Target. I was majorly lusting over those heart bags (and the people who were in her seminar were lucky enough to score one before they're even in stores!)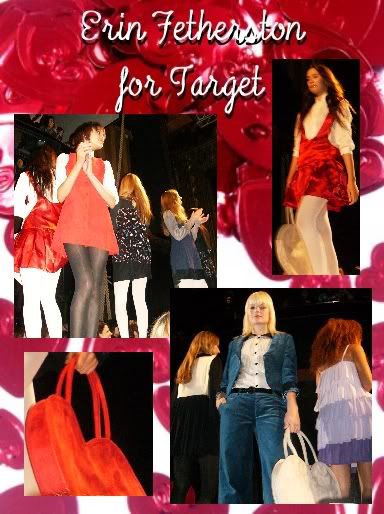 Saturday morning I woke up bright and early (wearing my Rebecca Taylor Dress as i've metioned I would be), and stood in line in the pouring rain to get in! Once i got in I recieved a quite amazing goody bag (dooney & bourke bag at that). I had no idea we would recieve anyyything, so that especially added to my excitement (it definitely more than totaled the amount we paid to get into Fashion U!)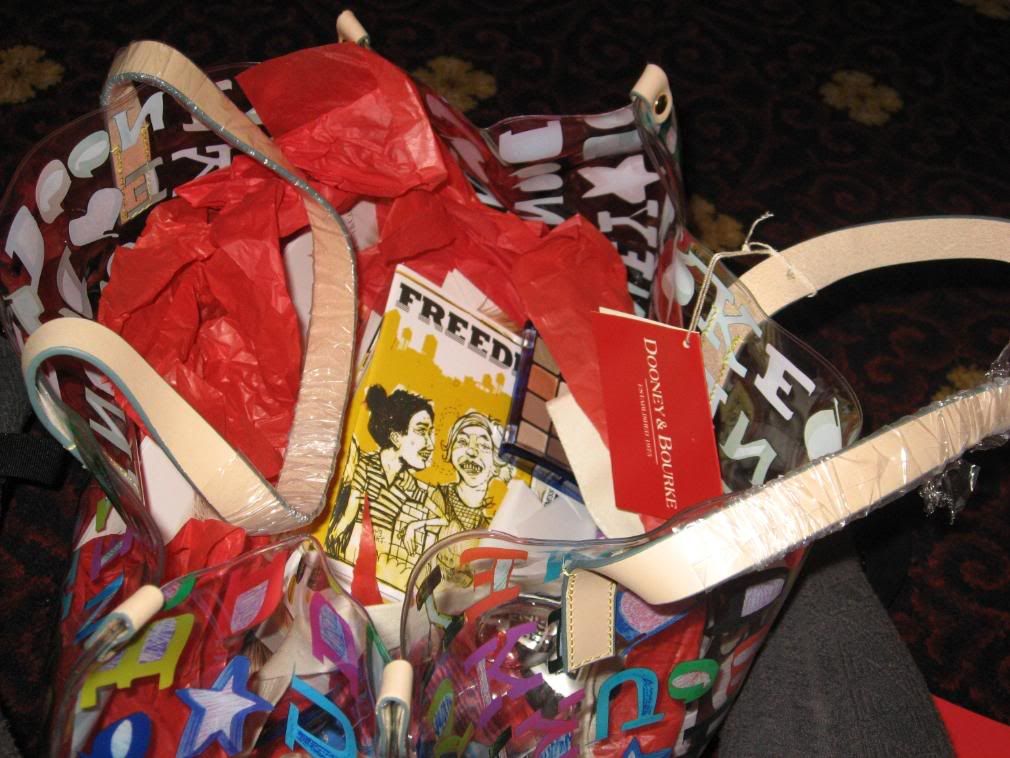 My first seminar was with Rebecca Taylor, I loved her endearing New Zealand accent. She has an amazing story.. she came to NY with $600 and lived in a hostel while designing clothes. We learned that she seeks inspiration from her every day surroundings from girls on the street, to nature, to art books. She even noticed I was wearing one of her dresses and seemed giddy :)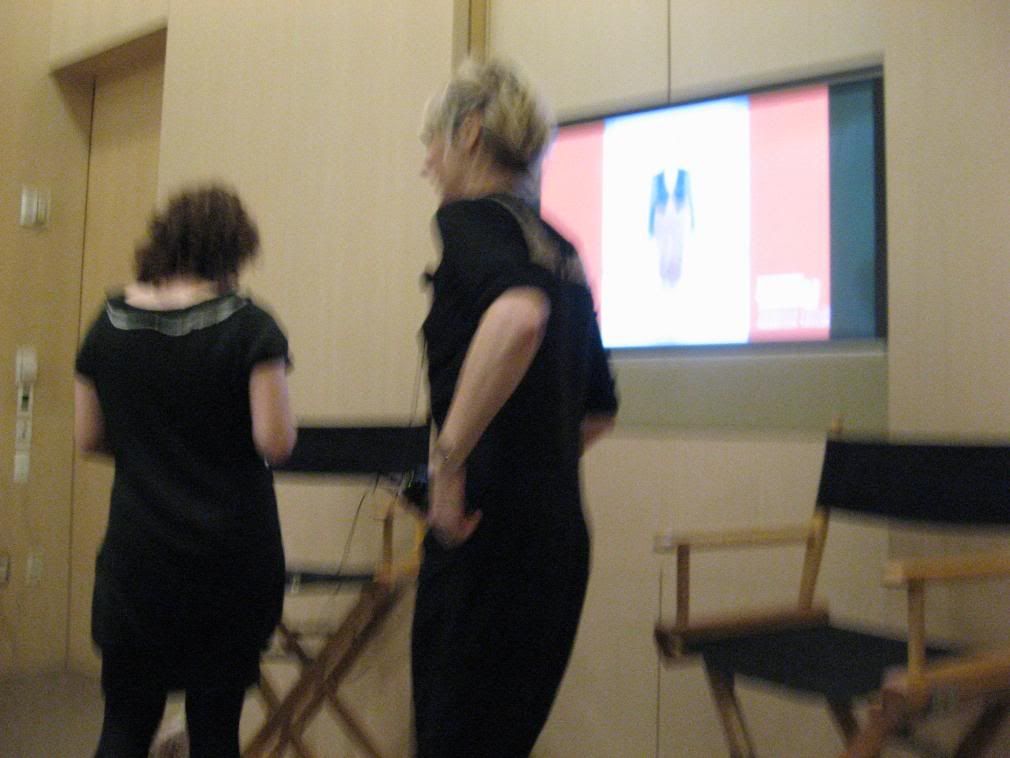 My second seminar was with CFDA winner Doo.Ri whom was an interesting character. She seemed very intelligent and technical. She has overcome a lot as an upcoming designer; she couldn't afford a showroom in NY when she started so she worked out of the basement of her parent's cleaning business. She also worked for 6 years for Geoffery Beene before branching off on her own which i thought was interesting.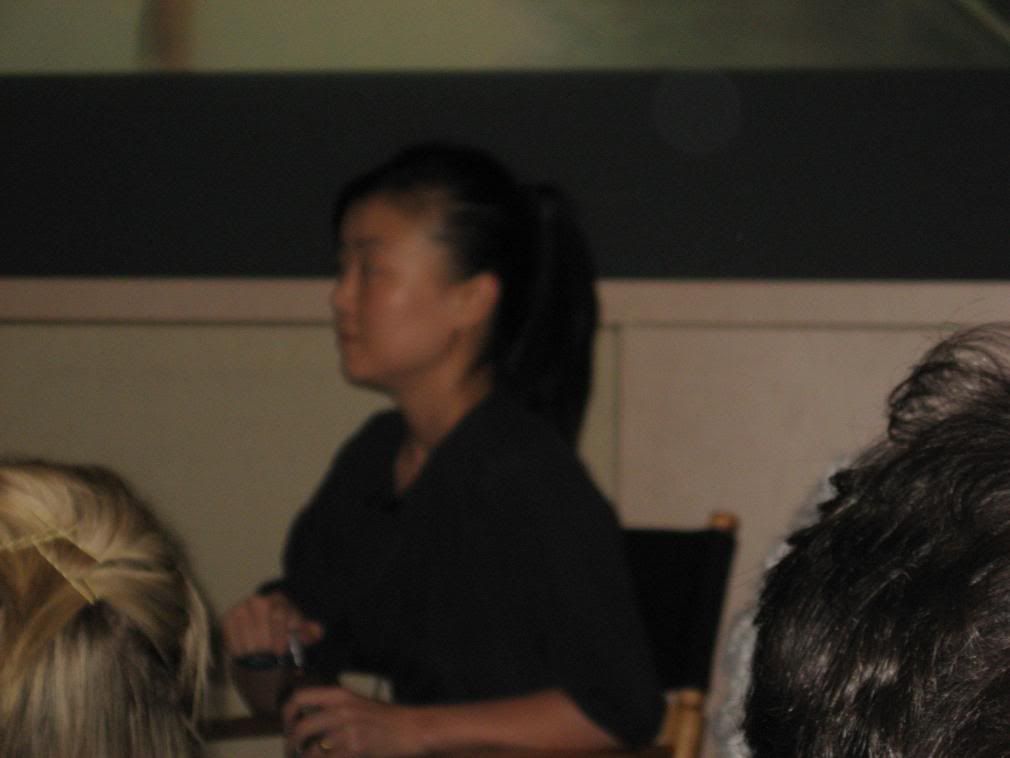 Next I got to take the tour of Teen Vogue's offices.. yeaaah i could pretty much live in that fashion closet! Mary-Kate Steinmiller (who's in the new TV issue)said that the Devil Wears Prada is actually a pretty accurate portrayal of life at a fashion magazine.. yikes! I don't know if i could handle being in that kind of a high pressure enviornment. Also, they told me that my college has a good reputation in the industry and at the magazine which is exciting/a relief for me!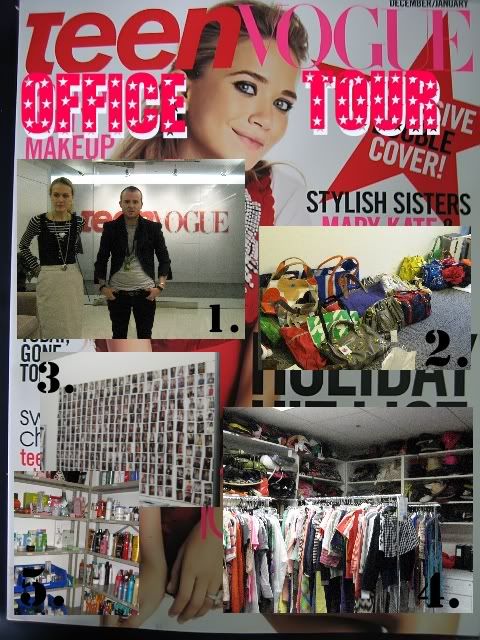 (1. Mary-Beth (the fashion assistant) and the Stylist of Teen Vogue; 2. The Accessories office (heaven!); 3. The model booking office; 4. the FASHION CLOSET (cue hallelujah's); 5. the beauty closet!)
My 4th Seminar was with Cynthia Rowley who I absolutely adored. She showed us this picture of her at age 7 in the first dress she made! She was so endearing and down to earth telling us how she got started in the industry (an editor stopped her on a bus and asked her where she bought her jacket). She has never worked for anyone else and has had a long, successful career thus far. She also brought her little daughter with who was so adorable and sat on her lap and asked questions the whole time:)
Our final seminar was with Tim Gunn (ahhhh!) i love him! He's amazing. He talked to us about some of the F/W 08 collections and asked for our opinions on them. Talked about "his boys" at Proenza Schouler and how he worries for them because their career has skyrocketed right after their senior year at Parson's (their senior collection was purchased by Barney's!). He was just as charming in person, using his quirky colloquialisms and extensive vocabulary.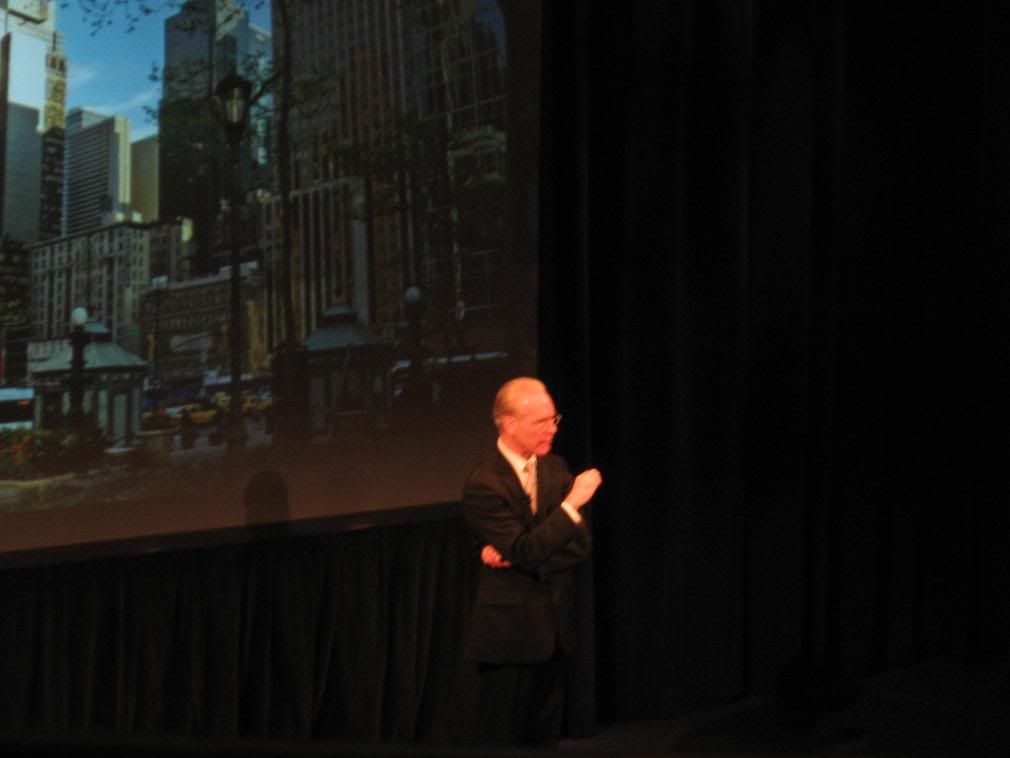 The perfect ending to the perfect day.. the Tiffany & Co Mocktail Party & showing of Seamless (a fashion film about 3 CDFA contestants). They had tiffany blue mocktails & pink mock cosmopolitans and then cute little h'ourderves were served! It was held at the Tribeca Cinema which was such an awesome venue. They had little popcorn tubs and teal&white jelly beans for us to snack on during the showing of Seamless! At the end we had a special suprise.. that came in a little teal box.. a Tiffany & Co. necklace, mine is a little silver taxi cab, the perfect memento for my trip!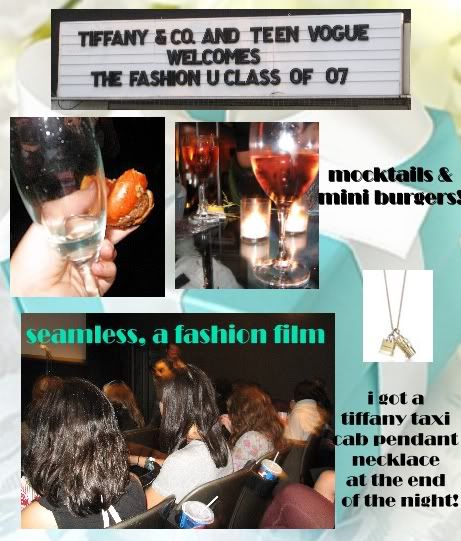 Overall, Fashion U was a wonderful experience. I learned so much about the industry, heard from some very influential people, and met some awesome fashionistas! I would definitely go back if I had the chance!

xoxo, lauren