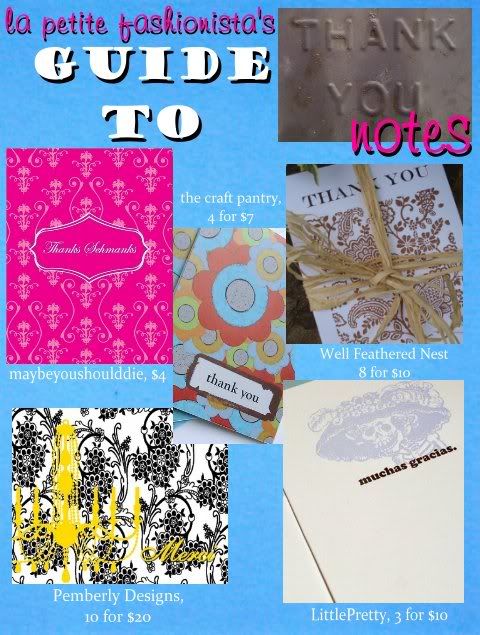 all the featured thank you notecards can be found on etsy.
Yes I should be sleeping because Santa's coming tonight, butttt I've been working non-stop the last few days that I've had no update. So in my wee bit of relaxation time i've decided to blog! I already opened a few gifts from my family tonight- lots of fashion books & a sewing machine! I can't wait to go to my grandma's house tommorow where we'll have our traditional christmas morning breakfast & spend the entire morning opening & oogling over presents.
I think that thank you notes are a lost form of etiquette that is no longer expected, but definitely appreciated. So, take some time out to write some to those who endowed you with lovely gifts this holiday season.
Here is a handy guide t0 Thank You Notes courtesy of themorningnews.com :
1.Greet the Giver
Dear Grandma,
2. Express your Gratitude
Thank you so much for the hand-knitted socks!
3.Discuss Use
They will be sure to keep me warm and toasty in the bitter florida winters.
4. Mention the past, allude to the future
It was great spending Christmas with you and I look forward to seeing you during my next college break!
5. Grace
Thank you again!
6. Regards
Love Always, Lauren
Merry Christmas & Happy Holidays to all my La Petite Fashionista readers!
xoxo, lauren