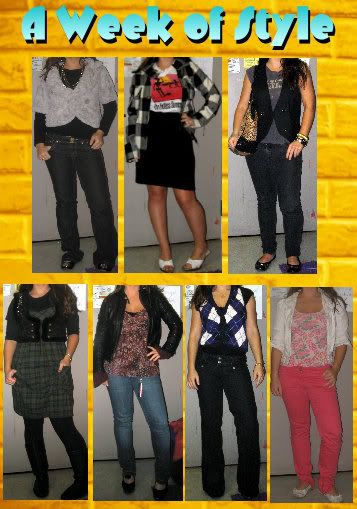 I got a comment from Oh La Luxe about posting some of my personal outfits because I told her how her boutique's audience seemed very similar to my own personal style. So, I've decided to do so! This is a small display of outfits over the past week.I'm wearing darker colors than I usually do, probably because of the dreary weather we've had lately. But overall this is probably a good representation of my style which consists of:
Inspiration from books (I was reading Rachel Zoe's guide to style, thus the gray fur coat)

Inspiration from brands (pink floral top & pants= betsey johnson)

Inspiration from tv shows/movies (argyle vest a la gossip girls)

Usually some sort of statement piece accessory unless my outfit is already really bold

Lots of prints & splashes of color

Vintage pieces (black slouchy boots, black pencil skirt, and layered silver chains)

Layering; since I have a pretty big collection of clothes I like to layer pieces to make them more interesting or for extra warmth in the winter
Hope you enjoyed a peek into my closet & personal style! I try and make this blog not all about me, but sometimes it's fun to see the look behind the blog!
xoxo, lauren