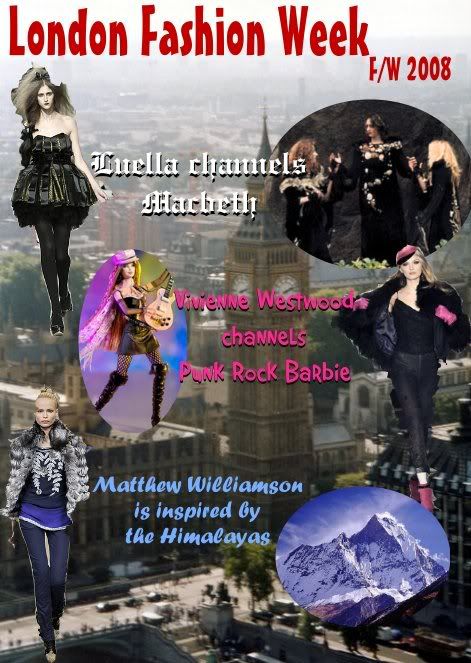 Last week was London Fashion Week & i'm just reviewing a few collections that I enjoyed. Currently is Milan Fashion Week, and stay posted for a review of the collections there!
Luella: Her F/W collection was such a drastic change from the cutesy florals seen on her models in Spring. This show as dark, moody, and edgy and I got a very Macbeth witches vibe from looking at the clothes. The pointy witch hats & frizzed out hair make it hard not to sense that. There were some less severe pieces which looked like they had a russian influence that could translate into fall retail. "I wanted something a bit raw and pagan," said Luella of her inspirations.
Vivienne Westwood Red Label: I loved how she started the collection with a picket sign as a twist on the fur protestors outside of fashion shows. The red label maintains Westwood's signature eccentric style, yet makes it more mainstream and wearable for us regular fashionistas. Look for lots of layering layering, with cardigans over dresses, suede over the knee boots, and loose shift dreses in wild patterns.
Matthew Williamson: This collection was composed of the ethnice/tribal prints that have been predicted to be so popular for fall. Paired with giant fur coats, embroidered blouses, and hand and electric blue and pink this look strays from the traditional. Its modernized with its metallic accents and flowing dresses. I'm thinking everyone should invest in a tribal print dress to add to their wardrobe!
xoxo, lauren