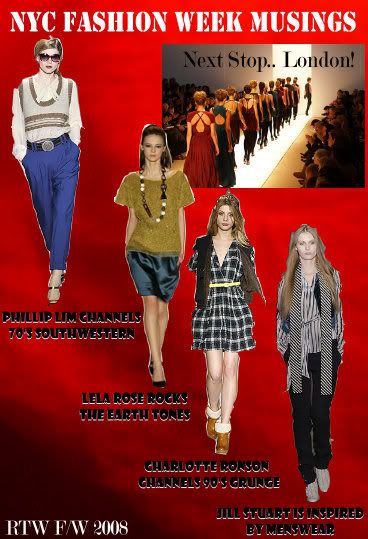 So sorry its taken me so long to wrap up NY fashion week. I know we're already well into London Fashion Week, but unfortunately this also coincides with my midterm exams.. yikes! I absolutely could not study any more for my microeconomics exam so, thus my Fashion Week musings: part deux!
3.1 Phillip Lim:

I've been watching this promising designer closely since Fashion U, where he was one of the noted speakers.His collection contained a lot of southwestern elements to this collection that I noticed. Big belt buckles, bow-tied blouses, suede vests, and lariats. In terms of accessories, huge statement necklaces and oversized sunglasses were worn.

Lela Rose:

The look pictured is actually one of my favorites from all of fashion week. I really liked the mix of textures in the garments and the earth tones of all the clothing. The collection contained pretty party dresses and cigarette pants in glitzy fabrics paired down with chunky tribal looking necklaces.

Charlotte Ronson:

This celebrity favorite had a collection that seemed like much of its looks were inspired by the late Kurt Cobain. Huge doses of plaid, cuffed work boots, and hippie headbands. I'd love to get my hands on some of the slouchy knit dresses and cardigans seen on the runway. The oversized knit berets favored by hipsters were all over the show, adding a further grunge feel.

Jill Stuart:

I was pleased to see looks with a masculine twist, straying away from the usual uber feminimity of the label. Even the poufy dresses were paired with black leather boots to take the edge off. The color palate was gray, navy, and black but the looks were far from dull. Each look felt like the perfect balance of girliness and toughness with its trenches, hardware, and asbence of stilettos.
Stay tuned for a review of the London shows from this week!
xoxo, lauren