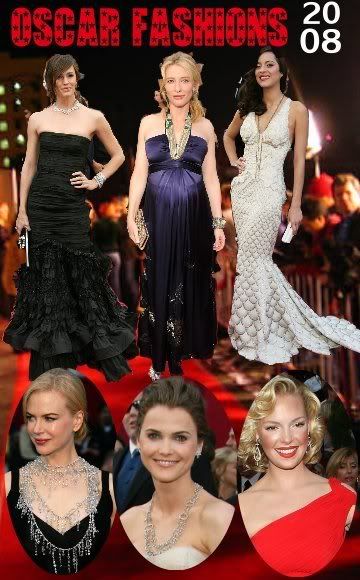 I've never actually watched an entired Academy Awards show until tonight. But, its worth it just to see all the amazing red carpet dresses and accessories. These looks are a few of my favorite from tonight:
Jennifer Garner in Oscar de La Renta; she was dressed by Rachel Zoe and its nice to see her in something so dressy because her style is so laid back. I'm loving the stacked diamond bracelets. This was my favorite look of the night!

Cate Blanchett in Dries Van Noten; the very pregnant star looked fabulous in this unique dress. It had a very bohemian feel with its embroidery and detailed neckline.

Marion Cotillard in Jean Paul Gaultier; I was stunned to see how gorgeous and young the Best Actress winner was since she looked so much older in La Vie en Rose. She looks beautiful!

Nicole Kidman, Keri Russell, and Katherine Heigl all caught my eye because of their eye-catching accessories or bold make-up; such gorgeous styling!
On a different note, I fell in love with all the shows from Milan's Fashion Week, can't wait to post some of my favorite looks & trends from the collections!
xoxo, lauren