Every year the Council of Fashion Designers of America (C.F.D.A.) nominates 10 up-and-coming designers to be a potential winner of mentorship from industry professionals and $200,000 to put towards their company.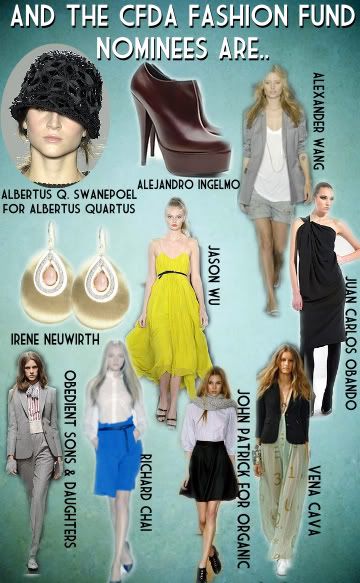 Albertus Q. Swanepoel for Albertus Quartus: A milliner that has constructed detailed hats and headpieces for runway shows for Proenza Schouler, Betsey Johnson, and Thakoon.

Alejandro Ingelmo: A hot new high-end women's shoe designer. He likes sky-high platform heels in bright colors. Could he be the next generation's Manolo Blahnik?

Alexander Wang: My personal favorite. He's known for his billowy and modern sillhouettes. The clothes are super-wearable and could perfectly find their way into anyone's wardrobe.

Irene Neuwirth: A jewelry designer known for her red carpet ready jewels. Her pieces have already gained popularity with celebrities like Angelina Jolie.

Jason Wu: This designer got his start designing barbie doll dresses. His flirty full-size dresses in daring colors and new styles do not disappoint.

Juan Carlos Obando: An advertising creative director turned designer. His gowns evoke an elegant and clasic look a la 50's screen sirens.

Swaim and Christina Hutson for Obedient Sons & Daughters: Androgynous suits tailored to perfection.. Business wear for the ultimate fashionista.

John Patrick for Organic: As one of the movers and shakers of the eco-fashion movement Patrick is a designer ahead of his time and an inspiration to others.

Richard Chai: With a Target collection due to hit stores very soon this designer seems well on his way to attracting worldwide attention.

Sophie Buhai and Lisa Mayock for Vena Cava: This dynamic duo creates beautiful feminine looks with experimental colors and prints.

I'm very interested to see who comes out as the winner this year! All of the nominees seem very deserving!
xoxo, lauren