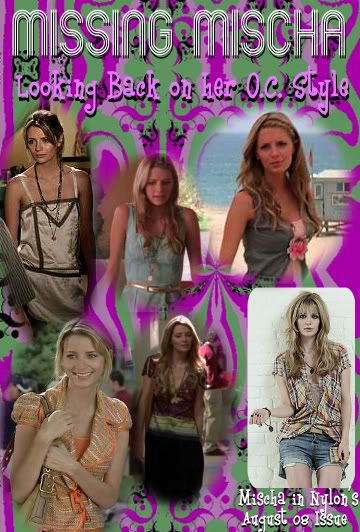 When I got my new issue of Nylon in the mail i had an instant flashback.. summer 2006, the height of my O.C. obsession. It was so nice to see Mischa Barton and read about what she's been up to. Fast forward to this summer.. i've been watching re-runs of the O.C. on Soap Net and yet again lusting over Marissa Cooper's relaxed beachy style.
Even though her style is now a couple years old, her character on the show still offers some great fashion inspiration..
Remember the colorful short sleeved jackets and baleros she paired with jeans?
The way she braided her hair into a headband that we all attempted to recreate but never quite succeded?
The way she pretty much introduced bohemian to viewers with her long prairie skirts & floaty tops?
We've missed you Marissa Cooper.
xoxo, lauren