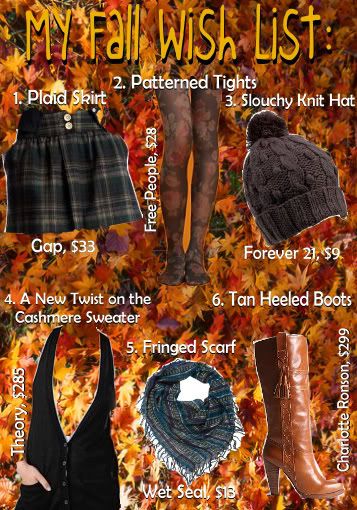 I've just begun planning out my fall wardrobe wish list-- it's hard to think about cool weather when I'm walking around in 90 degree sunshine every day! Here are my picks for fall:
Plaid Skirt: Wear this trend a la gossip girl with bow headband and streamlined blazer.

Patterned Tights: Perfect for dressing up a little black dress.

Slouchy Knit Hat: Pair with perfectly messy waves for a look straight out of an Alexander Wang runway show.

A New Twist on the Cashmere Sweater: This v-neck cardigan vest is just as soft and luxurious as the traditional sweaters yet more versatile and trendy.

Fringed Scarf: Great paired with a solid colored tee and skinny jeans. Look for eye catching ethnic prints & colorful patterns.

Tan Heeled Boots: A girlier look than last years popular flat heeled boots. Wear with tights and a dress or tucked into jeans.
What are some of your fall fashion must-haves?
xoxo, lauren