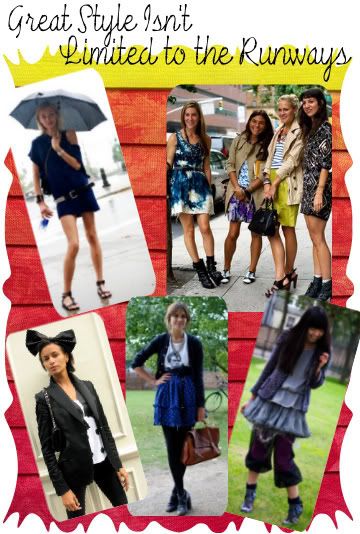 (Photos from the Sartorialist, Facehunter, & Cafe Mode)
Sometimes I spend just as much time looking at stylish street style of fashion week go-ers as I do the collections! You might spot a couple familiar faces here; Susie of Susie Bubble (in the bottom right corner) and the fashion editors at Teen Vogue (the picture above). From the daring looks to the "safe", it must be quite a lot of pressure to find the perfect outfit for fashion show.
I'm actually experiencing quite the same issue right now! I'm on my way to Tampa Bay Fashion Week to cover the events. It's my first time actually attending shows and not just being a backstage volunteer so I'm honored and excited andddd still trying to find that perfect outfit. When I get back I'll have photos from all the shows I attended featuring local talent & reviews of all the collections. Wish me Luck!
xoxo, lauren