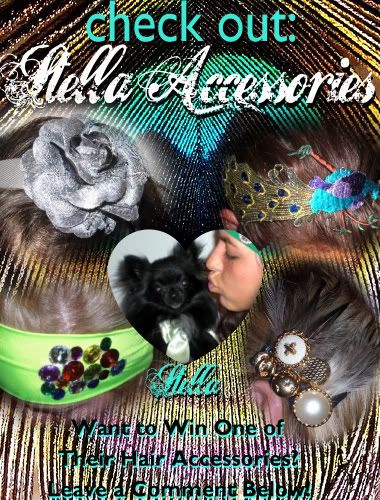 Stella Accessories
is a fantastic up and coming hair accessories line I wanted to introduce my readers to! Their work is gorgeous & affordable, and just my style. Check out my interview with the lovely ladies &
make sure to leave a comment below
for the chance to win one of their handmade creations! (Contest ends
Monday!)
LPF: How did you come up with the name for your business?

Stella:
We came up with our name because of our dog Stella! She is our little princess!
LPF: What is the background of the creators of Stella Accessories?
Stella: The creators of Stella Accessories are Samantha Vigorito, Danielle Zuckerman, Taylor Sugrue, and Alexia Panza. We are four roommates who met a year ago through going to school for fashion. Taylor and Danielle are from Manalapan, NJ Samantha is from Monroe, CT, And Alexia is from Ft. Laurderdale FL. We are all currently fashion students working our way into the industry at FIT and LIM College in NYC.
LPF: What kinds of goodies do you sell & what makes your accessories special?

Stella:
We sell headbands, hair pins, and hair combs. What makes them so special is that we hand-make all of our accessories so each one is unique and a little bit different!
LPF: Where do you find the materials used in your work?


Stella:
We find the materials we use throughout the city and through our collection over time. Some of the pearls for instance may have once been a necklace from our mother, while some of the charms are vintage earrings from thrift shops around the city.
LPF: What advice do you have for other young entrepreneurs?

Stella:
The advice that we have for young entrepreneurs is to never stop believing in your goals, and don't just say you will do something and regret not doing it. Take action!
LPF:What kind of girl do you see wearing your accessory creations?


Stella:
The types of girls that wear our accessories collection are typically fashion forward consumers. Some of our headbands and more intricate than others and require a trendy girl with desire to be fashion forward and a trend-setter!! We also have more simple types for girls who have more of a classic sophisticated look a 'la Blair Waldorf.
LPF: Where can we buy your amazing work?


Stella:
We are currently working on our website so customers can conveniently order hair accessories online, but for now just e-mail
stellaacessories@gmail.com
. Through this e-mail you can let us know which headband you see that you want or explain an idea you may have of something you want us to create specifically for you.
xoxo, lauren
p.s. to check out more of their designs, check out their new website!