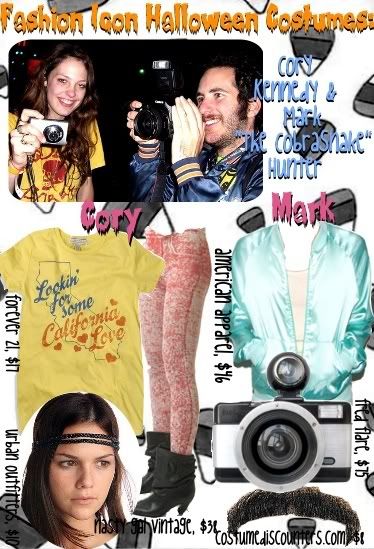 So some might argue that this infamous hipster duo are not "fashion icons" persay, but they definitely have made their mark in the fashion community. Cory Kennedy is an "it girl" known for her crazy outfits. Mark Hunter is a photographer for popular nightlife site "The Cobra Snake".
The best part of their halloween costumes are that, you can pretty much wear them using clothes you have in your closet. Also, for added fun.. find a guy to be the mark to your cory and offical photog of the night.
Here are some tips to achieving the looks:
-For Cory, make sure to add some pomade or texturizing cream to your hair to give it that grungy "i-haven't-washed-it-in-like-a-week" look
- Throw together super unsusual colors and patterns when dressing as Cory, as well as overload on accessories.
- Add a white v-neck tee & huge eyeglasses to add to Mark's look.
-Extra points for bushy sideburns and and a mini curly-fro while dressing as Mark.
Stay tuned for more fashionable halloween costumes & feel free to post suggestions/ask for help putting together one of your own!
xoxo, lauren