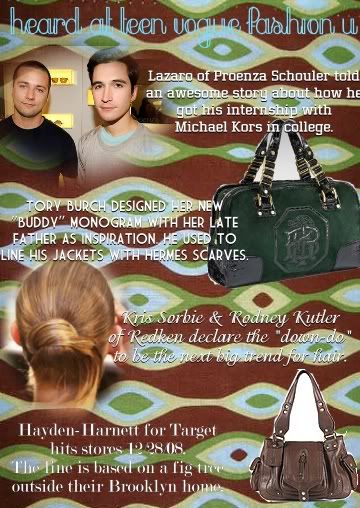 I had an amazing weekend in New York at Teen Vogue Fashion University. I got to explore a lot of the city and made some fashionable friends. I even met the awesome Dara of Secretista & we talked about our hopes for future careers in fashion. I went to seminars by Tory Burch, Redken experts Kris Sorbie and Rodney Cutler, Peter Som, and Proenza Schouler (they are my designer crush!).The next day we head from Target designers Hayden Harnett, Sonia Kashuk, and Liz Lange. I took away different things from each seminar. All in all, I kept hearing these points:
The fashion industry is a lot smaller than it seems, so don't burn bridges and network in any way possible

You must be passionate about a job in fashion if you pursue it because it can be a very labor intensive and time consuming career, but if you love it, it won't feel like work.

Equally as important as education are internships; you gain vital experience and connections working under and learning from industry professionals.
Lazaro Hernandez's Internship Story:
As a Miami native he was flying back to New York he saw Anna Wintour on the plane. His mom encouraged him to approach her & "ask her for a job". He was super intimidated by her so he mustered up the courage to pass her a note written on a napkin. He never heard anything from her, until a couple months later when he got a phone call direct from Michael Kors asking if he'd like to intern for him. Apparently the note got passed down from editors to designer and ended up in his hands. Everyone took it seriously because it came from Anna Wintour.
If that doesn't attest to the importance of networking, I don't know what does!
xoxo, lauren
P.S. Check back for pictures from my trip in my next post!