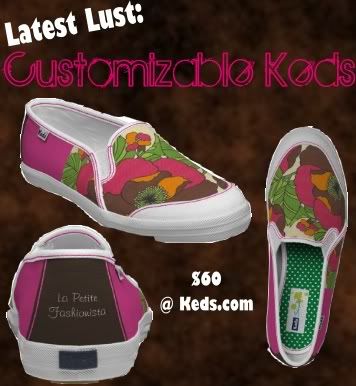 When I was little I used to look through my gramma's Lillian Vernon catalog & pick out potential christmas gifts. I always loved how you could monogram everything and make it personalized. Well the new
Keds
studio is like a grown up version of this & much more fun. Maybe it's the fashion student in me, but I love any opportunity to get creative with my clothes and accessories.
The site lets you play designer and upload your own graphics or text onto 3 different styles of shoes. You can customize 6 different areas of the shoe & even the sole, laces, and stitching.
How cool would that be if you were actually talented enough to sketch your own designs? Another innovative area of the site is the option to release your shoe design to the "marketplace" where you can receive profit from each shoe sold in your style.
These are definitely going on my Christmas List!
xoxo, lauren