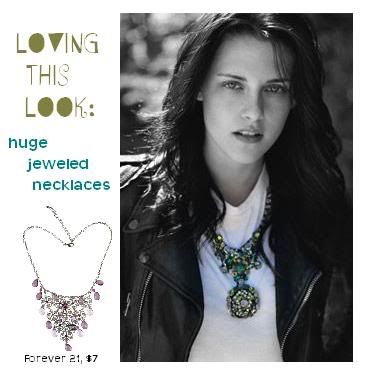 First of all, my deepest apologies for the lack of photo editing! I'm at home for Thanksgiving break without a laptop so I'm pretty much limited to Paint.. yikes!
Anywho, after seeing the huge jewels at the Prada show the image of them against a plain backdrop has stuck with me. A solid colored white, black or navy tee with jeans and a huge hunk of jewelry just sounds so fabulous yet casual at the same time. I'm all about drama when it comes to my clothing choices so I think it's a great pick. I prefer the necklaces or chandelier earrings in rich jewel tones like emerald, magenta, citron, and royal blue.
I love the new Teen Vogue's editorial with Twilight's Kristen Stewart. If you've read the book or seen the movie you'll see that this look pretty much describes her character Bella; simple yet beautiful.
Tommorow i'm going shopping (i've been deprived of a decent mall while away at school!) & this is one of the items i'm on the hunt for. I think it'd be perfect paired with a little black dress for a holiday party. Sure guy friends might tease you and ask if you're on my way to prom or something, but they'll probably secretly be impressed that you've got the guts to pull it off!
xoxo, lauren