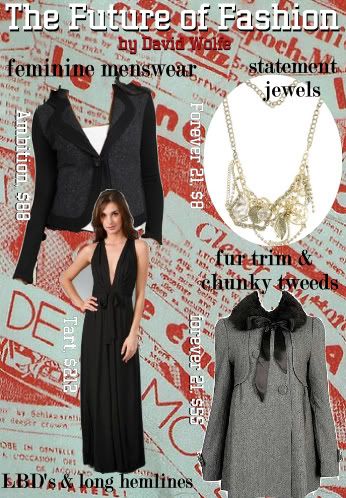 As part of my college's "Fall Fashion Week" I had the opportunity to hear the country's premiere trend forecaster David Wolfe speak. I was completely enthralled by what he said; everything was so relevant and real; nothing sugarcoated. I'm going to tell you about some of the things I took away from his speech!
-
Some Thoughts on Fashion:
The media makes us feel guilty about the pleasure of fashion. There are concerns over issues more pressing than fashion. Therefore, its time to make some changes to the industry:
Fashion is no longer eurocentric, it has become much more global. Designers are going to where the consumers are (the super-rich are a bulletproof niche market, unaffected by the economic downturn), Kids are an important market because families will not stop spoiling their children despite a sour economy.
-Upcoming trends: 30's and 50's looks
* Chic & Elitist: a return to powerfully rich dressing as if everything is okay in your bank account (furs, embellishment, luxe fabrics)
*Ensembles: We're so used to items separately and mixing and matching a la Carrie Bradshaw so a pulled together look is refreshing and exciting.
*Tailored Feminimity: Jackets, blouses, and suits in fabrics like tweed, silk, and charmeuse and elegant trims like feathers and fur.
In modern times these are some guidelines that should be followed so that the fashion industry continues to thrive:
1. Design something people think they need;
- A timeless LBD
-An intervew suit for job searches
-Blouses (for underneath suits)
2. Make It "New"
-Descending hemlines; dresses and skirts can't possibly be any shorter
-Snakeskin seems different when reworked by big designer names
-Soft shades seem new to those wearing blacks, brights, and neutral.
-True newness like high performance textiles.
3. Provides Escape
-Fashion should offer an escape from a harsh reality. (Ex: Sex and the City)
4. Change and Reinvent:
-Delivery scheule needs to change in retail stores: people buy clothes when they want them. (bathing suit deliveries in december don't make sense!)
-No consensus on "what's in": there are too many trends going on at one time that people don't know whats in and what to buy.
- Fashion that is too far out of touch will not sell: "we can't afford to look ridiculous".
xoxo, lauren