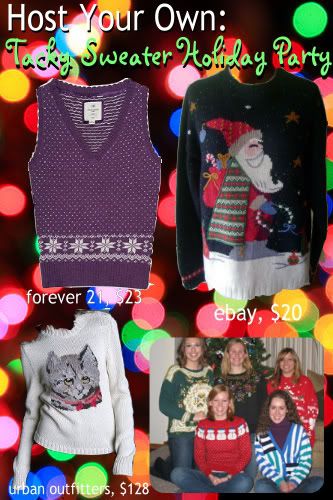 Around the holidays everyone's schedule are usually full of cocktail parties, gift exchanges and dinners. A tacky sweater holiday party is one that I've always wanted to host!
You can channel on your old elementary school teacher's bedazzled sweaters and hit up your local thrift stores for a donated treasure. The more reindeer, sequins, jingle-bells and light-up elements the better! Obviously, don't spend $100 on a tacky sweater, but seek inspiration from the examples above. Award prizes for the ugliest sweater!
Pour some egg nog, create a holiday theme playlist on your ipod (i recommend *NSYNC's Christmas album!), and invite all of your friends for a fun night!
xoxo, lauren