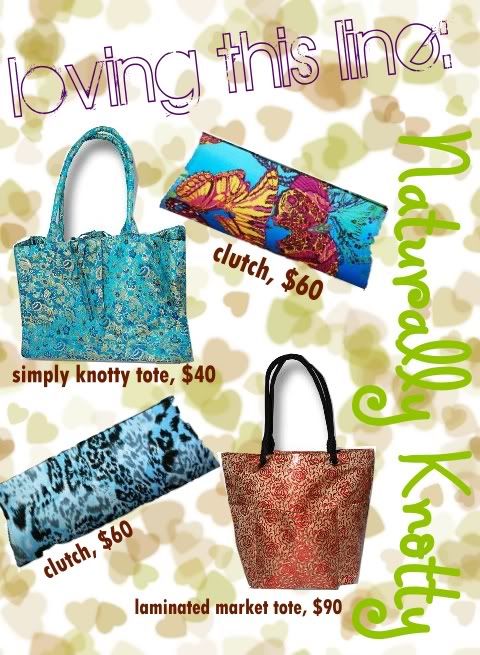 If there's one thing I truly admire in a clothing/accessories line (besides the aesthetics of course!); it's a commitment to environmentally friendly practices. It's great to see an entrepreneur with whole hearted ambitions! Sustainability and purchasing items that are of superior quality and standards is something I'd really like to focus on in my wardrobe choices for the forthcoming year. I'd like to invest in pieces that will be with me forever.


Naturally Knotty
uses textile factory scraps and overstock that would otherwise be thrown away to create their cute bags & clutches. The company hopes to create pieces that people will love and use forever opposed to wear a few times and toss or give away. Besides the morally good feeling from using something good for the planet they're totally practical. The laminated totes are perfect for poolside, the clutches make a colorful accent to an outfit, and the simple totes could lug all my school books.
Jasmine, the owner and a fellow
blogger
was kind enough to give away one of Naturally Knotty's clutches to a lucky La Petite Fashionista reader!
Leave a comment below for a chance to win! (Contest ends Sunday)

xoxo, lauren