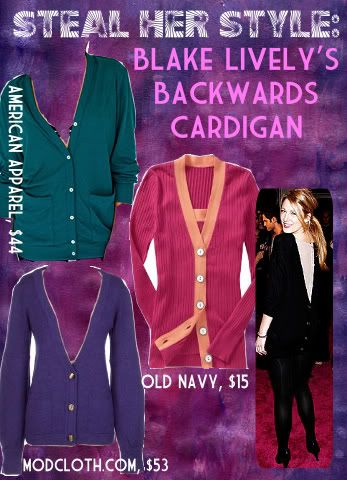 If there's one thing I've learned as a college girl on a budget it's that you've got to be able to wear clothes more than once. Sure, it seems obvious, but sometimes at least for me, I get this celebrity state of mind where I feel like I can't be photographed out in the same thing twice.
That's why i love Blake Lively's reinvention of the ho-hum v-neck cardigan that's sitting in everyone's closet right now. Basically, it's just a cardigan on backwards with the V facing the back. Some people called her out on it saying it's a fashion faux pas, but I disagree. I think it's a risk, but she can pull off almost anything. I'm all about getting more than one use out of a garment & this is a creative way to do that!
What do you think.. creative or too out there?
xoxo, lauren