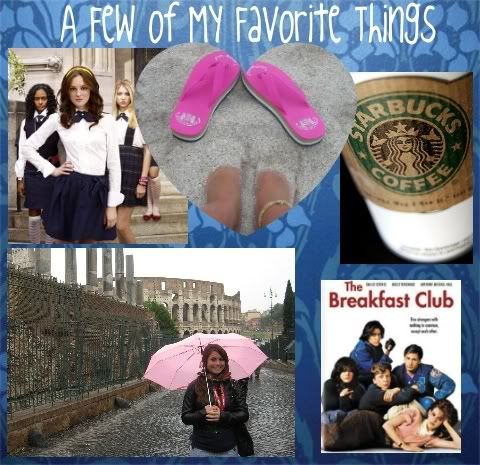 10 things I Love
1. Scouring vintage and thrift stores for hidden treasures
2. Starbucks' Salted Caramel Hot Chocolate (w/ a shot of espresso!)
3. Taking spontaneous road trips
4. Surfing & being at the beach in general
5. When my friends let me style them
6. Line Dancing, one of my guilty pleasures.
7. Hawaii, my favorite place on earth.
8. Wearing high heels, especially the ones that people make you say "how can you wear those??!"
9. Watching my college team play football
10. My little yellow ford ranger truck
10 things I Hate
1. Having my heart broken.
2. Not succeeding
3. Techno music
4. Peas
5. Waiting in lines
6. CROCS
7. People that don't think I'm capable of something because I'm only 19.
8. Jerks
9. When something goes on sale right after you buy it.
10. That the economy is doing so poorly right now
10 Random Facts about Me
1. I'm studying abroad this summer in London, Paris, and Milan and I CAN'T wait!
2. My living room is painted lime green, per my suggestion
3. I love a night of movies & apples to apples as much as going out
4. I just learned how to cook this year & I've mastered mac & cheese, lasagna, cheeseburgers, and chicken salad!
5. I spend an obscene amount on lattes yet I'm hesitant to splurge on other things.
6. I would travel the world if I had the funds & someone to accompany me.
7. I should have lived in the 80's! I love the movies, music, and clothes of the decade.
8. I thrive on throwing themed parties-- I even planned Homecoming my senior year.
9. Every Monday night I get together with my girlfriends to watch Gossip Girl, One Tree Hill, and the City and gossip.
10. I'm attending Miami Fashion Week in March as a member of the press, it's going to be an amazing opportunity!
Whoever would like to participate feel free to tag yourself & let me know you're doing so so I can check out your answers!



xoxo, lauren