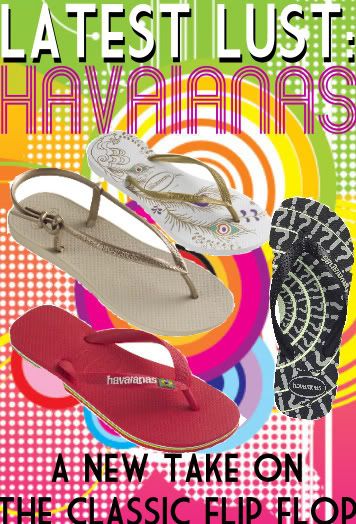 As a Florida girl, I have a healthy appreciation for warm weather, beaches, and the flip flops that accompany those things! I'm already dreaming of Spring Break and picking out bikinis online!
When I went to South Beach over the summer to volunteer at Miami Swim Fashion Week everyone seemed to live in their trusty Havaianas. I even saw the woman entrepreneur who first brought them to the U.S. while I was working backstage at a show for a Brazillian designer.
The brand has come a long way from their original flip flop design. The peacock pair offers some flashiness, the gold fit style creates a dressier look, and there's even a pair of glow in the dark for going out at night. At less than $20 bucks a pair, I'm adding them to my Spring Break wish list.. along with toned abs & a nice bronze tan! Only a couple months to go..
xoxo, lauren