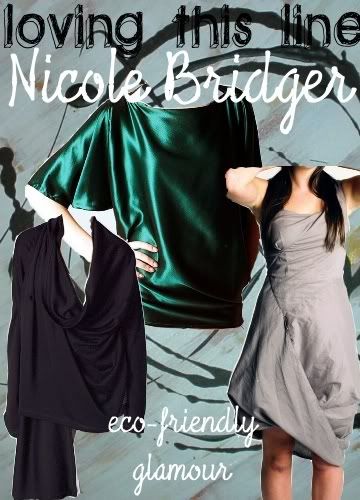 I'm still a big supporter of the eco-friendly clothing movement. My roommates tease me for carrying my reusable shopping bag when we go grocery shopping, but even that teeny effort makes me feel like I'm doing something to help out.
Eco friendly fabrics are definitely going to be a part of a big movement in the fashion industry. It's a great niche market for designers. Nicole Bridger is showing that designs composed of environmentally safe materials no longer have to be fit for leftover hippies but can be glamorous and stylish.
I'm loving these floaty sillhouettes in luxurious fabrics like cashmere, satin, and organic cotton. They'd all fit seamlessly into any wardrobe and look super comfy. The lookbook offers some sartorial inspiration as well; it looks like the line is for the earthy fashionista who still wants to look stylish.
xoxo, lauren