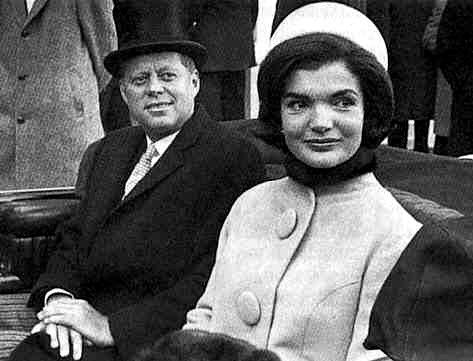 JFK & Jackie O on his Inauguration Day
As I watched the Inauguration today I couldn't help but wonder, could Michelle Obama be the next Jaquline Kennedy in terms of her fashion sense. I never thought I'd be connecting fashion and politics, but it seems like style may be returning to the White House
Jackie O. was the first to bring fashion to the Capital city. Oleg Cassini was her designer of choice, turning her into a fashion icon. He dressed her in sheath dresses (similar to the one our new first lady is wearing), pillbox hats, and pearls.
Michelle Obama has taken to wearing designers that are relatively unknown to the masses. So far she's worn outfits by Thakoon, Phillip Lim, and Narciso Rodriguez. For today's inauguration she chose a dress by Isabel Toledo, a Cuban-American clothing designer. The color is actually very close to Pantone's color choice for the year, Mimosa which "embodies hopefulness and reassurance in a climate of change".
If there was any question as to if she was a style star in the making, she already has a fashion website dedicated to her- Mrs. O.
Best wishes to our new President..
xoxo, lauren