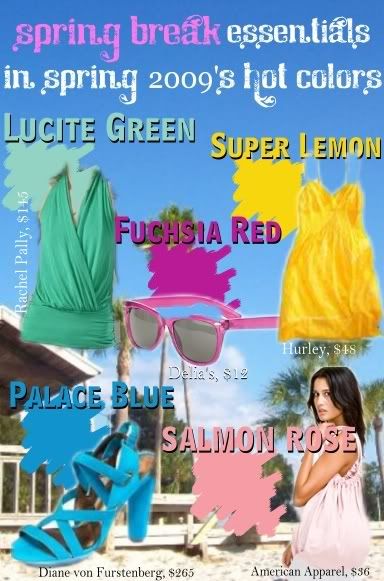 Pantone released their forecasted colors for Spring 2009 a year ago and it's crazy how accurate they are/how much designers pay attention to them. These 5 colors were among their list and it says on the site that they "Provide Optimism and Stability for Spring". I love the mix personally and think they are a great combination together or separate. They remind me of the Carribean.
Also, Spring Break is coming up for most of us (mine is in a week!), and these are some essentials for break, assuming the weather will be warm-ish where you are!
A Going Out Top

: Something slinky and flattering to wear for a night out on the town is a Spring Break must.

Sunglasses:

A pair of shades for eye protection is a necessity in the sun! This wayfarer inspired style is super cute.

Day To Night Dress:

This dress could work as a cover up or dress to wear shopping and when glammed up with some accessories and heels a good night look as well.

Carry All Handbag:

A roomy bag can fit everything from a change of clothes to a stash of fashion magazines.

Shoes in a Shocking Color:

A brightly colored pair of shoes such as this azure blue pair makes an instant statement and an eye-catching touch.
xoxo, lauren
P.S. This picture is from my hometown beach. I can't wait to spend some relaxing days in the sunshine!