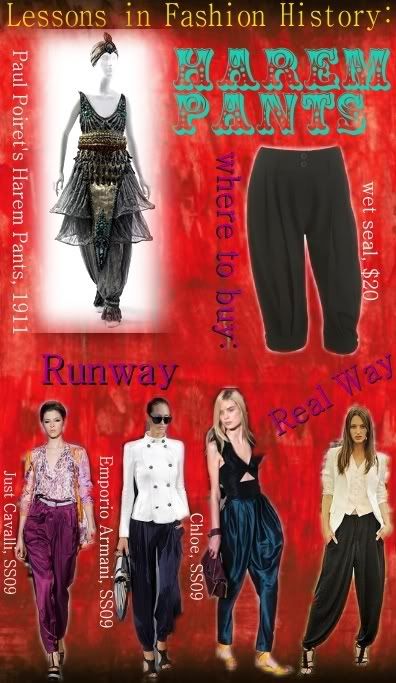 Did ya know.. Harem Pants were first popularized in the early 20th century during the Orientalism Movement? Paul Poiret was very inspired by the Orient and Ballet Russes; from the jewel encrusted lampshade tunics to tapered harem pants. He encouraged women to free themselves from uptight corsets and indulge in some exotic apparel.
Now, harem pants are making a huge comeback, they were all over the runways in Spring/Summer 2009 fashion shows and have made their way into stores and many fashionistas' Spring wardrobes. It's absolutely crazy how fashion recycles itself!
The look is best worn with open toed high heels sandals & a fitted top. To add to the oriental look try a pair of dangling chandelier earrings in a deep violet or emerald. I personally think the pants in black are the most versatile and least Jasmine looking, but they come in all colors. I like the idea of wearing it as a more fashion forward, dressier evening look.
xoxo, lauren
P.S. A huge thanks to College Fashion for putting me on their list of must bookmark fashion blogs! I'm incredibly honored & appreciative-- Welcome to any new readers! <3