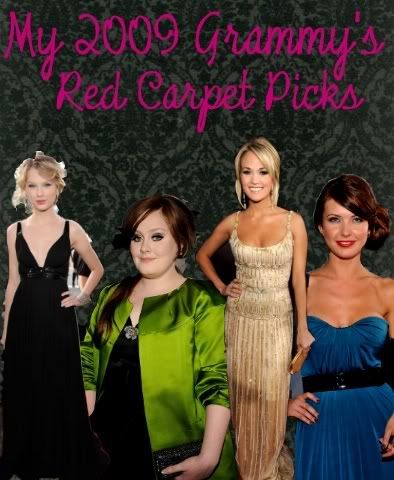 I'm not usually a big fan of awards shows, but I decided to watch the Grammy's with my roomies. I pay more attention to the fashion than who wins the awards of course. Now that I'm in college I never get any opportunities to dress up in gowns and jewels (although I like to make my own excuses). I actually enjoyed the performances a lot-- usually the show doesn't hold my attention.
As for my favorite red carpet looks:
Taylor Swift looked age appropriate in a black v-neck dress with a patent leather belt. It's a basic dress, but a trendy design. The thick cuff is a good choice for an accessory.
British songstress Adele took a risk with her lime colored satin evening jacket, but I love the pop of brightness it adds to the look. I could do without the silver brooch though.
Carrie Underwood wore a super-flattering nude colored column dress. It looks perfect with her tan complexion and blonde hair and has a great lengthening effect.
Although reality star Audrina isn't a musician, I really liked her look for the red carpet; the royal blue is a bold color. The sweetheart neckline and side bun ties everything together.
xoxo, lauren