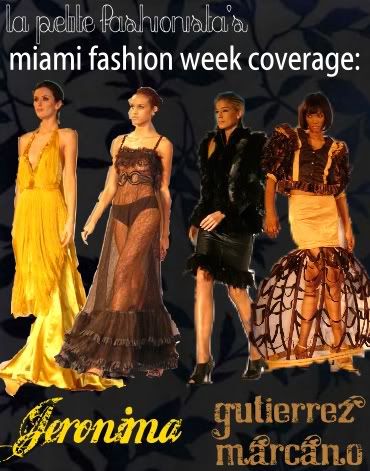 Jeronima Bonilla, a designer from Colombia presented designs for the "classic woman" with simple, feminine sillhouettes. I loved this bold yellow dress (almost every designer had one in their collection), the fringe went all the way to the back where it knotted. The sheer dress was very Carrie Bradshaw, empowering and feminine. Some trends woven throughout the collection were volume & drama, samba ruffles, and structural shapes.
Guiterrez-Marcano is a design duo hailing from the Dominican Republic. Their forte is discreet luxury and modern conceptual creations. This black leather and feather creation caught my eye on the runway, something only an Olsen twin could pull off. The brown caged skirt was very futuristic and the model was working the balloon sleeves and giant skirt. The themes throughout the show were leather, sequins, colored silk slips underneath sheer dresses, and brocade.
Universidad del Caribe is a fashion design school out of Columbia raising the talent of the country in all things fashion. The looks had the most amazing silkscreened bathing suits and colored raffia fedora hats & bags. The wedges were tall, multicolored and some lace-up paired with chunky wood necklaces. The island vibe of the accessories was summery and fun.
John Estrada from Colombia was inspired by the indigenous Sicuani people and their jungle locale.. The exotic silk off the shoulder & halter dresses had nature inspired prints in green, brown, and white. Some elements seen throughout the collection were macrame handbags, kimono sleeves, trapeze shapes, and dark gold sequins.
Keep checking back for more coverage of Miami Fashion Week shows and my favorite looks from each collection!
xoxo, lauren