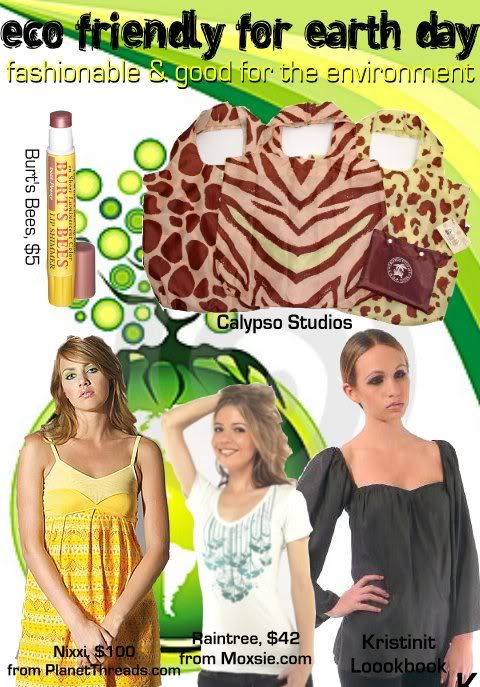 Okay, so true, Earth Day was yesterday but it's finals week and blogging had to be put on hold momentarily! I think its wonderful that sustainability has taken center stage lately and people are starting to realize the importance of caring for the environment.
It's better for you too, the organic material used for sustainable clothing isn't grown with pesticides and the beauty products aren't made with synthetics. I personally bring my shopping bags with me whenever I go grocery shopping- not only does it cut down on the use of plastic bags, but its a stylish caryall.
There are some great up and coming environmentally friendly labels coming out; check out Planet Threads for organic clothing and accessories.
Check out Moxsie for other indie lines and specialty brands (use code EARTH15 for 15% off your purchase). What's cool about Moxsie is that they donate a portion of their profits to whatever charity you select at checkout.
Kristinit is a label dedicated to producing stylish eco friendly clothing. Thanks to designers' innovation and forward thinking organic clothing no longer needs to bring hippie hemp shirts to mind!
Calypso Studios SHOP bags (Start Helping Our Planet)will help you start making an impact on the environment one fashionable step at a time.
xoxo, lauren