Bar wearing bracelets by Mary Kate Steinmiller and recently featured Ettika!
I'm so excited that MTV and Teen Vogue are reviving the 90's favorite fashion show, House of Style. I haven't seen much about it on TV, but apparently the premiere was March 21st, so keep an eye out for more episodes!I'm loving the first installment! Supermodels Bar Rafaeli and Chanel Iman host the show, highlighting trends, D.I.Y.'s and celebrity style spotlights.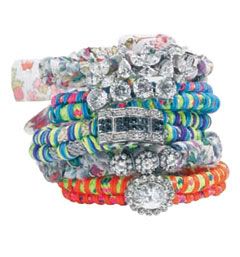 My favorite part of the show was the friendship bracelet tutorial from Teen Voguette and accessory designer Mary Kate Steinmiller. It's so inspiring to think that she was the one who gave me the tour of the Teen Vogue offices back during Fashion U in 07'! It's cool to see how far she's come. I'm a teensy bit obsessed with her neon braided & bedazzled bracelets.I'm anxious to see more from the show!
Check out the online episode
here
! I took it off because it was slowing up the page loading.
xoxo, lauren