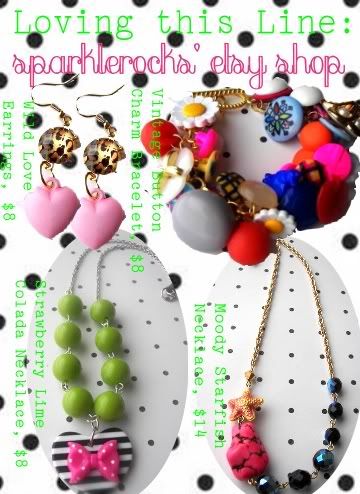 One of the great parts of using Twitter is how it allows you to find out about people and products you never knew existed. I found SparkleRocks' adorable etsy shop from twitter. I bought a charm bracelet the other day that I'm so excited about! I just wanted to highlight some of my favorite kitschy cute pieces in her store!
I love the use of bright color and unconventional materials. Her acessories are super affordable & she's even offering free shipping for La Petite Fashionista readers! (Use the code La Petite Fashionista at checkout!)

Amy, the SparkleRocks' owner was nice enough to do a mini-interview with me!
Where do you get your inspiration from?
To me, inspiration comes from many places. Someone once said something like "What is the purpose of art except to inspire others?" and I've always found that to be true, and in all honesty I like to take something, misshape it, turn it upside down and bring it back ten times cuter. I like to add cuteness to the weirdest things, and turn uncanny objects into wearable art.
However, most of my inspiration comes from aesthetic beauty around me, even simple things like bright colorful vases or scrapbook paper. They all sort of blend together in my mind and I get a great idea for a piece. :)
What type of girl do you design for?
The type of girl I design for is one who bites her brightly painted nails and spits them out the window of her car while wearing huge vintage sunglasses and bopping her head to the beat of some crazy tunes she just discovered.
I find that most girls who like my jewelry don't really care about what others think about them, and if she does, it's only because she wants them to see her fabulous style that she's created for herself, not a clone of someone elses ideas. I don't style for the posh, or the perfect by any means, but for those who can appreciate the awesomness of retro color and design and mix it into their very imperfect life and personal style.
What are your favorite materials to work with?
My favorite materials to work with are in reality, forever changing. Sometimes I'll try new things and if I like it, I run with it. Lately (as you can tell) Im obsessed with vintage buttons and cabochons. However, I love to work with conventional supplies like glass beads, colored metal findings & chain. More recently I've been getting into things like stretchy sequins and faux flowers to make super cute headbands, lucite and vintage plastic flowers.
Why do you think people should buy handmade?
I think its the best choice ever right now to take the buy handmade pledge. American ecomony sucks the big one right now, and by buying handmade from Americans, we can boost the ecomony from the inside out. Say no to sweat shops, say no to mass produced art. Support aspiring artists like me!

xoxo, lauren