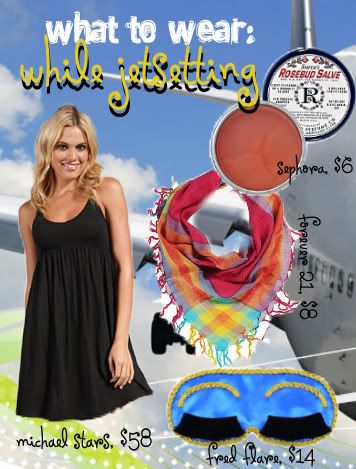 I'd hardly refer to myself as a "jetsetter" considering my travels are usually in coach not first class or on family vacations instead of carribean islands. But, I really love the term and the images of glamour and luxury it evokes! Traveling is one of my favorite pastimes. I'm anxiously counting down the days until I leave for my study abroad trip! (and saving up my paychecks for some international splurges!)
One of the most common issues people run into while traveling whether an experienced first class passenger or a first time flier is what to wear on board and in the airport. Comfort is key, although there are much more stylish options than sweats and a zip-up hoodie!
A lightweight sundress made out of jersey material will travel well & stay wrinkle free.

A cozy pair of flats in case you need to dash across the airport to make a connecting flight.

A sleeping mask comes in handy during daytime flights; a nap can help you adjust to time changes.

Scarves are great if the air conditioning on board is too high, or your hair gets flat and you need something to tie it back with.

Smith's rosebud salve is perfect for dry skin from traveling it can be used on everything from hands to lips!
What are your travel essentials?


xoxo, lauren