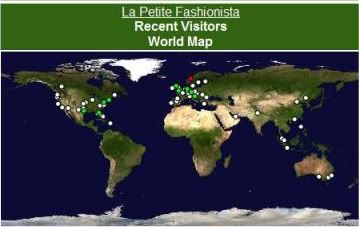 This post is really for my dad; he calls me almost every day at work to give me an update of where my latest blog visitor hails from. He thinks it's so remarkable how these people all over the world have something in common, their love of fashion & being a visitor of my blog!
It really is amazing; I have such a global audience and I think it's so cool that people across the globe are interested in what I have to say! While I'm writing out of a college town in Florida, I have visitors from places as diverse as Wisconsin to China to the U.K! And let me tell you, I appreciate you all :)
Where are you reading my blog from?
xoxo, lauren