Asha, designer of Ashaloo on Etsy.com is an incredibly talented, recent graduate of my school's fashion program. She's always wearing something totally fashion forward & has more ambition in her pinky than most do in their entire body. Asha makes and sells her own jewelry on
etsy
and takes custom orders too! I love the unique use of materials & statement that her designs make. They're just the thing to let out your inner trendsetter.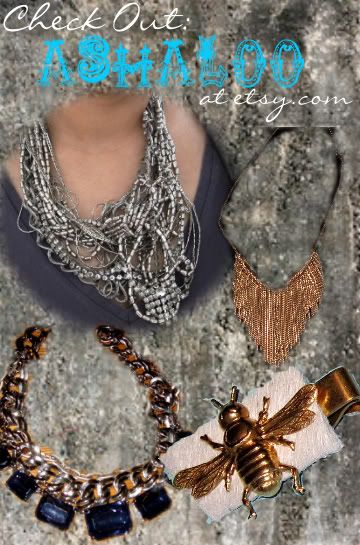 A Bit of Q & A with the designer, Asha.
What kind of girl do you envision wearing your pieces?
A city dweller that has an appreciation for quirky, eclectic jewelry & vintage elements. I think my items are versatile enough to wear from work to going out at night.
What materials do you use in your work?
I use a lot of vintage chains and materials & tend to take a lot of things apart & rebuild/reuse. I sit on my chain covered floor and start laying a piece out and join and attach as I go. But honestly no material is off limits, I once made a clutch out of straight up brillo pads that you scrub your kitchen with!

Where do you seek your inspiration from?
I am inspired by so many things! Shopping anywhere from vintage to hardware stores gets my mind churning. I am also really inspired by different tribal jewelry and from the places I have traveled to. Of course blogs, magazines, and entrepreneurial people able to make a business doing what they love, which would be my ultimate dream!!

How do you describe your personal style?
I think my style is a little grungy with some whimsical elements thrown in. I love wearing dresses with beanies or something feminine with one of my jewelry pieces to toughen it up.
xoxo, Lauren