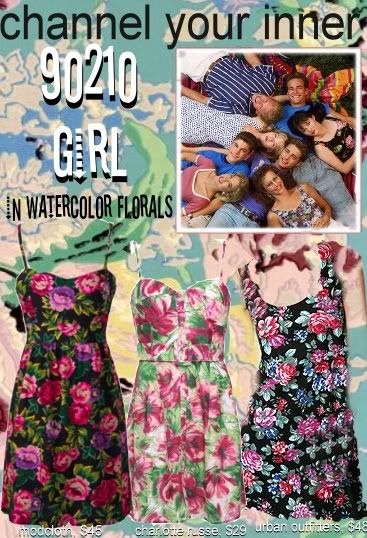 Lately I've discovered
espisodes
of the Beverly Hills 90210 online.The storylines still are entertaining 10 years later. It'll make you wish you had a Dylan or Brandon to take you on dates to the Peach Pit, Kelly's closet, and Donna for a bff.It's alsogreat inspiration for 90's fashion cues; some scary (
matching vest & pants suits? thong leotards for the gym?
) others fun (
combat boots, florals, and plaid shirts).
One fashion trend that can definitely work your way into your wardrobe are all the pretty watercolor florals. If you want a truly 90's style look for a babydoll style with cap sleeves. Thrift stores are a goldmine for looks like these for a few bucks! For a look thats supremely nineties pair these with something acid washed or clunky doc martens.To modernize the floral dress wear it with strappy gladiators and a flower headband.
Are there any 90's trends you can see coming back?
xoxo, lauren
P.S. Only one more day to enter the contest to
win
the silk floral top from B.B Dakota!