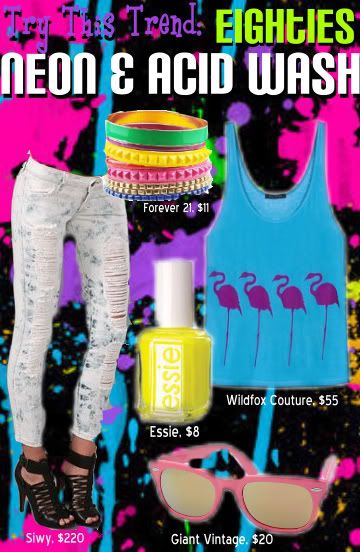 One of my favorite current trends is neon brights. They add a splash of instant summer and 80's optimism to any outfit. Colored accessories or even a coat of nail polish is an easy way to test out the trend. The acid wash look is not for the faint hearted, but is definitely do-able [See Rumi @ Fashion Toast for inspiration]. Slip them on and feel like you've stepped back in time to the front row of a '87 Def Leppard Concert.
Vogue UK 80's Inspired Editorial
A college bar my friends and I got to alot hosts an 80's music night every Friday. It's impossible to not dance the evening away when songs like "Don't Stop Believin" are blasting on the loud speaker. I love eighties tunes, you just can't help but be happy and dance when you're listening!
My Rad 80's Playlist
Paradise City- Guns N' Roses

Into the Groove- Madonna

Pour Some Sugar on Me- Def Leppard

More Than A Feelin'-Boston

Don't Stop Believin' - Journey

Your Love- The Outfield

Girls Just Wanna Have Fun- Cyndi Lauper

Beat It- Michael Jackson
What's your favorite 80's jam?
xoxo, lauren