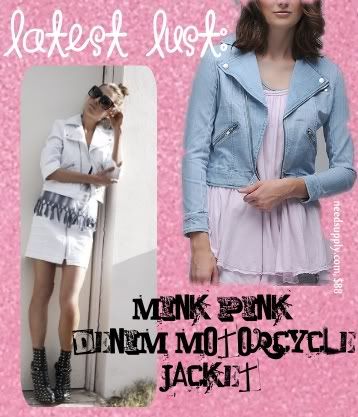 Lately I've been throwing on my worn in denim jacket over everything. When I was in Europe, I wore my leather motorcycle jacket everywhere; it gives an outfit an instant kick. I think that's why im in love with this denim/biker jacket hybrid by trendy Australian line, Mink Pink. I could wear it with everything I own this autumn!
I love the shot from their S/S 09 Lookbook.. very Swedish street style looking with the bun on top of the head, and the studded boots. Since motorcycle jackets are usually leather, the denim softens the look up quite a bit and makes it a bit more feminine and tailored.
ALSO, just wanted to announce the winner of the KanDi swim contest (drumroll please)! Congrats to the Polished Sense blog.. thank you everyone for entering!
xoxo, lauren