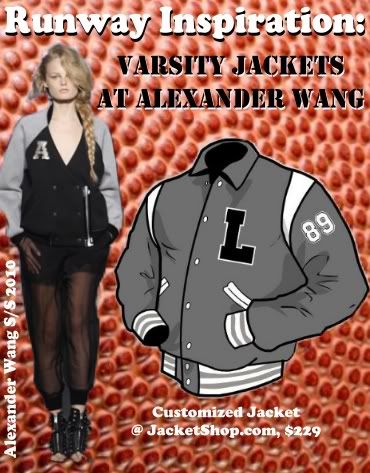 Everyone's been raving over Alexander Wang's S/S 10 Americana & high school football inspired collection (the leather, shoulder pads, and those amazing braids)! If it's been a while since you've graduated from high school and you have no quarterback boyfriend to borrow clothes from, no worries.. you can customize your own varsity jacket! They kind of remind me of Happy Days but I think it could be an updated look with skinny jeans and black ankle boots!
I'm heading back to my old high school next weekend to escort my little sis in the homecoming court parade and football game (wearing my '07 homecoming queen sash no less). I'm definitely glad I've moved on and graduated, but it's fun to look back on all the traditions of high school as an alumni.. and sport your school colors at the homecoming football game.
Would you ever wear a varsity jacket?
xoxo, lauren
P.S. Congrats to Jacqueline @ Fashion Snag for winning the nuNAAT giveaway! Stay posted for a giveaway from chickdowntown coming SOON!