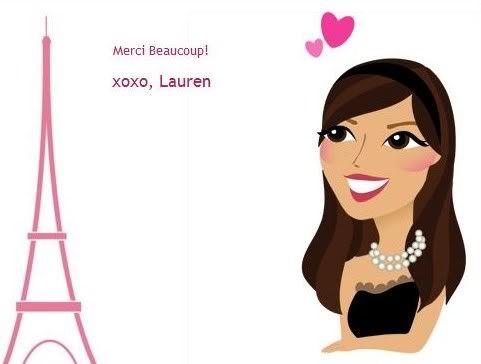 As all of us classy ladies know, a thank you note is proper ettiquette during the holiday gift giving season. I always try to pick out cute stationery to send out to loved ones. It leaves a great impression & is a thoughtful touch often lost in these technological times.
PosePrints are customizable caricatures (that's supposed to be me in a Parisian themed thank you) on notecards. There are hundreds of combinations of features and props to pick from to make it your own. There are also several backgrounds to choose from whether for a special occasion like a bachelorette party or the everyday. They're a cute and unique way to keep in touch.
PosePrints is offering a giveaway for my awesome La Petite Fashionista readers so one lucky person can design their own note cards!
All you need to do to enter is to answer the question (leave an extra post below if you twitter about it as well for an extra entry):
"What's on your holiday wish list this year?"
[Deadline to enter is December 16, at midnight EST; US residents only, i'm sorry!]
xoxo, lauren