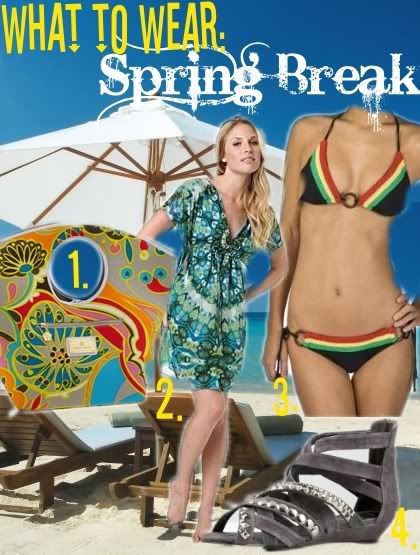 I'll be departing for my sand and sun filled spring break in a mere 5 days! So, obviously I have spring break on the mind. I'm hoping that it warms up so I can get my bronze on.
Here's my list of 5 essentials for spring break:
1. Cute Oversized Tote: This canvas bag by Trina Turk has a bold pattern equally as cute to store suncreen and towel as a carry-all to take with you shopping.
2. Day to Night Dress: This dress by surf brand O'Neill could work as a cover-up for the beach or to dinner with the girls.
3. Mix & Match Bikini: I actually just bought this bikini at Target, it can be mixed and matched with solid red,yellow, and black. I love the rastafarian colors.
4. Dressy Sandals: Flip flops are overrated! I prefer a dressier sandal like these from Polished Sense by Lovely People; they're a bit more fashion forward & sturdier than a rubber pair.
What are your spring break plans?
xoxo, lauren