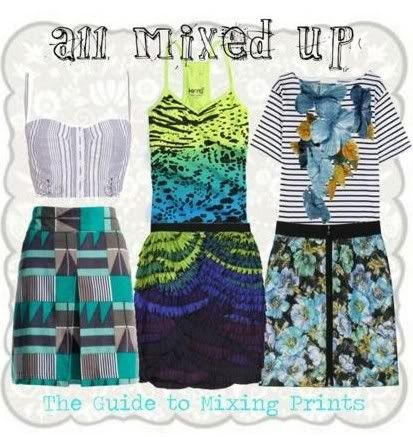 allmixedup by lapetitefashionista

Mixed prints is a big trend for Spring/Summer 20010! It is definitely one of those "tricky" trends that can be a little initimidating and many of us will just leave it up to fashion editorials to rock this style. Luckily, there are some tricks to making this work in the real world too!
Use Balance. If you use a bold print on the bottom pair it with a more subtle print on the top. For example, the first outfit matches up a high waisted geometric skirt with a pinstripe crop top.
2. Mix complementary colors together. Whether it is a warm or cool color palette when the top & bottom coordinate it makes the look more cohesive.
3. Pair variations of the same print in each piece. The third look has a flower graphic on it very similar to the one on the skirt.
I'm really excited to experiment with this look! It's definitely tricky, but has such an avant garde feel to it.
Will you be mixing prints this spring or is this look better suited to the runway?
xoxo, lauren