Happy Earth Day
everyone! It's mind boggling to me how much the eco-friendly/green movement has exploded in the last couple of years. It's becoming so easy to "go green" whether its the clothes you wear, or the products you use to clean your house!
Look for clothes made out of materials like organic cotton or bamboo. This means the materials used in them won't be grown with pesticides and often won't use synthetic dyes. Using mineral make-up means no skin irritants like titanium oxide & other irritants will go on your face!
*Get this Elwood romper for $25, with code ELWOOD50 at checkout at
Nimli
*This
Azuri
bangle is hand woven from bamboo
*It's easy to
LIV GRN
in this sassy tee
*Surfwear line,
Quiksilver
has a line of stylish, eco-friendly clothes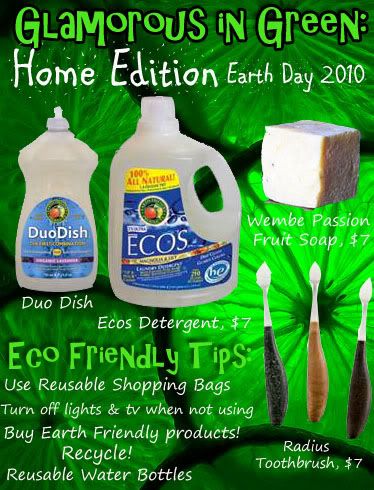 Using eco-friendly products for the home, uses natural ingredients, non-toxic ingredients and 100% biodegradable materials. Avoiding chemicals will be less irritating to skin, and make for a better home & world enviornment.
*DuoDish
is a gel strong enough for the dishwasher but gentle enough for hand soap
*ECOS
detergent ues a coconut-based softener & leaves clothes selling super yummy post-washing.
*Wembe
is an eco-luxe soap from Paraguay made using all natural-ingredients like mango and avocado.
*Radius Toothbrushes
are completely biodegradable and made out of materials such as dollar bills or flax.
Thank you to these companies for allowing me the chance to go green in my home & try out some of their products! I've been trying to do a lot on my own lately, and It's good to feel like you're doing your small part.
Are you doing anything to reduce your impact on the environment or dare I say, "go green?"

xoxo, Lauren