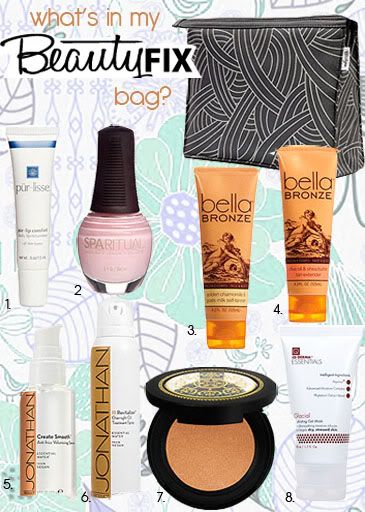 Beautyfix
has each customer fill out a personalized survey of beauty product preferences. A panel of beauty experts picks an assortment of up-and-coming and well known brands for you to choose from. You can even read reviews on each product & receive glow.com gift cards for filling out your own reviews. Becoming a member of Beautyfix is a great way to try out new products & be in-the-know about the latest beauty secrets.
I had the opportunity to check out some of the products in Beautyfix's Spring 2010 line for myself and wanted to share my thoughts on the beauty goodies I tried out!
1. Purlisse Pur-Lip Comfort: Seriously my new go-to lip balm; it leaves your lips feeling insanely silky.
2. SpaRitual Nail Polish: The perfect pink color, in a chemical-free, vegan formula.
3. Bella Bronze Self Tanner: A great non-orangey formula, perfect for a summery tan without the risk of skin cancer; works best on somewhat olive skin.
4. Bella Bronze Tan Extender: The olive oil & shea butter lotion will keep skin moisturized and smelling yummy all summer long.
5. Jonathan Anti-Frizz Volume Serum: The humidity in Florida is wavy hair's worst nightmare. This product was perfect for eliminating frizz and blow drying from the roots gave it some added volume.
6.Jonathan IB Revitalizer: Leaving this on overnight made my dry, color treated hair soft again. A complete miracle worker that gives your hair that just-came-from-the-salon feeling.
7. Global Goddess Eye Shadow: This shimmery gold is perfect for summer, with a great, brush on texture isn't overly glittery
8. IQ Derma Hydrating Mask: I'm not a big facial mask user, but this I could and should make time for. It felt nice & cool on my face & would be a great beauty staple in winter temperatures.
Beautyfix is perfect for beauty junkies and those who aren't trying to hunt around for the perfect products for them! All of our lives can use a bit of glamour.

To try it out for yourself & a $30 discount use code BFIX1 at checkout!
xoxo, lauren