A couple days ago I saw a message in my inbox from one of my guy friends from college. His dilemma was that he was going to a beach wedding with a "cocktail attire" dress code and had no idea what that required. I love that my friends are still forwarding their fashion questions to me a 1000 miles away, and I wanted to take the opportunity to write a post on it, with lots of spring weddings on the way!
For Women, Cocktail Attire can mean knee length dresses in silks and woven fabrics. I like the idea of brightly colored dress for a Spring wedding, and pairing it with fancier looking accessories and complementary shoes. Avoid cotton fabrics that can look too casual, sandals, and of course wearing the color white.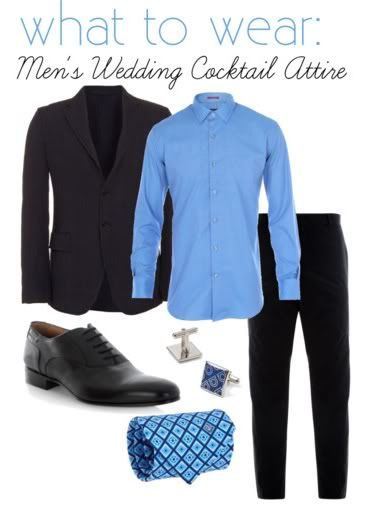 For Men, Cocktail Attire can be quite formal. Depending on the location of the wedding, look for a sport coat or blazer, with dress pants, and shoes that match. I like the idea of an oxford shirt with a pop of color underneath the jacket paired with a stylish, patterned tie. You can even go the extra mile and wear cuff links. Avoid tennis shoes, shorts, and going too casual; every girl loves a well dressed man!

Do you have any fashion dilemmas or questions I can help you out with! Feel free to email me or leave them in the comments!


xoxo, lauren