I was contacted by the
swimwear
experts at SwimSpot.com to try out their customized fit specialist program. Buying a
bathing suit
is a scary enough process in itself, let alone purchasing one online. That's why the fit specialists at SwimSpot are there to make it as easy as possible to select the perfect suit for whatever your body type may be!
They started by asking out by asking me about my body type and what I looked for in a suit. I said I was petite, curvy and looked for a suit that was supportive and flaterring but also colorful & fun ( a lot of requirements!). My expert (who I spoke to on the phone) offered me several options that met my criteria:
The thick band on the bottom offers more support than a triangle top string bikini.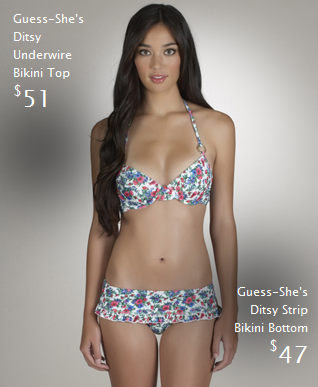 The wide banded bottoms are perfect for curves and the underwire top mimics a bra top.
Boyshorts are perfect for pear and hourglass shapes & the top gives great support.
Athena's suit styles were noted by Glamour mag to "look good on every body type"!
I really liked all the styles she chose for me, but decided to select the Guess style for myself; I really like the mini floral prints for Spring. Now I just have to wait for the weather to warm up here again!
If you're looking for a
women's bathing suit
, make sure to stop by SwimSpot.com and talk to their fit specialists. They'll help you find exactly what you're searching for, just in time for spring break and summer!
xoxo
,
lauren