True Story: it is the absolute worst time of year you could possibly diet. Though, I hope to think of it as less of a diet and more of a transition back into healthier eating. Wisconsin has wayyy too much delicious food, and it's all about balance (keep your balance y'all!).
My boyfriend and I are suffering through our holiday dieting together (with small indulgences along the way of course; see: made from scratch margs). We whipped up this taco salad for dinner the other night, and I didn't even miss the tortilla chips!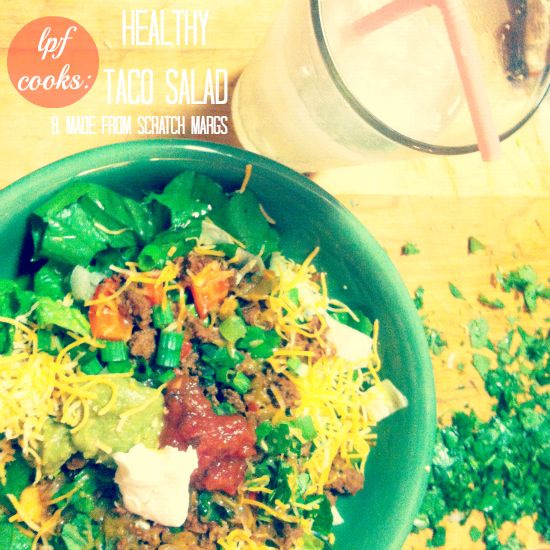 Healthy Taco Salad:
Ingredients:
1 lb lean ground sirloin
2 tbsp. seasoning (don't buy the pre-made packs, mix your own)-a pinch of cumin; black pepper, chili powder, garlic powder; salt
1/2 head of iceburg lettuce
1 onion
1 green pepper
2 c. of romaine lettuce
1/4 c. green onion
2 tbsp. cilantro
1/4 c. of reduced fat cheese
Optional condiments: salsa, sour cream, wholly guacamole (my favorite!)
1. Sautee onions and green pepper in a pan with a tbsp. of olive oil; set aside when onions are translucent.
2. Add seasoned ground beef to pan on medium-high heat, add back in onions & peppers when cooked.
3. Top lettuce mix with ground beef & veggies, sprinkle cheese, cilantro and whatever condiments you'd like
Save calories by: skipping the tortilla chips, using reduced fat cream cheese, and not using high-sodium pre-mixed taco seasoning
This is a much healthier way to make margaritas, and significantly less sugar and better natural flavor than store bought margarita mixes.
Made from Scratch Margs:
Ingredients:
1/2 lime
1 tbsp.
simple syrup
(it's easy to make your own- we store ours in a squeeze bottle!)
2 oz. tequila
2 oz triple sec
1. In a cocktail shaker, squeeze lime, add simple syrup, tequila & triple sec, add ice and give it a few good shakes
2. Pour over a margarita glass and fresh ice.
Experiment with margarita flavors; add muddled strawberries or grapefruit juice for a fun twist.
What foods do you like to swap out for healthier calorie substitutes?
xoxo, lauren