I know so many people can relate. You go to school or work full time. You come home and want to eat something healthy, but you're exhausted and don't feel like preparing something extravagant. It's so much easier to snack on whatever you have in the fridge or go for takeout.
I am certainly no expert in the kitchen, but I've definitely learned a few go-to specialties for busy days (that seems to be most days!) that I just want a home cooked meal. Today's recipe is a healthy take on my mom's famous chicken salad. Rotisserie chicken is a great starter for many recipes to cut out the time to defrost/cook chicken.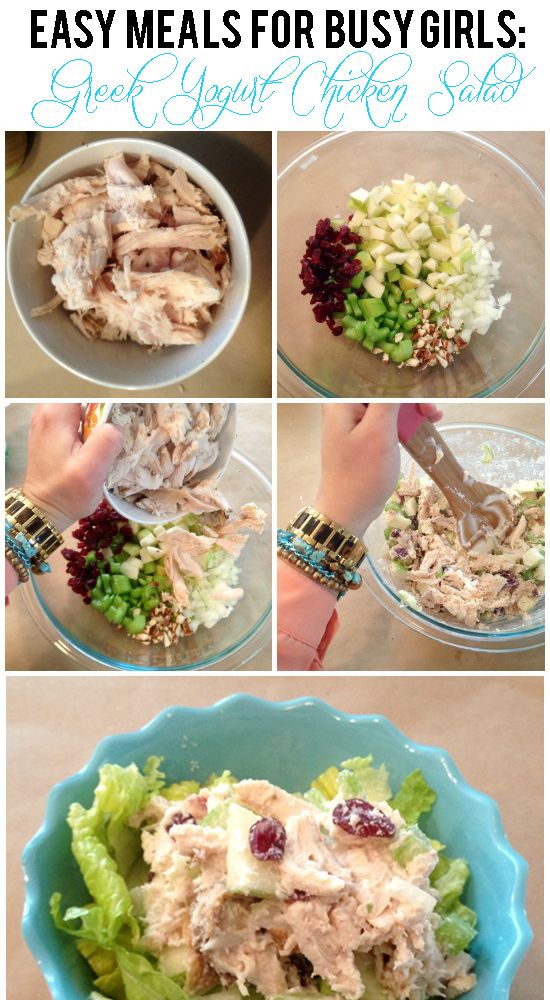 Healthy Greek Yogurt Chicken Salad
Ingredients:
1 rotisserie chicken (2 cooked chicken breasts)
1/2 granny smith apple
2 stalks of celery
1/2 cup dried cranberries (crasins)
2 tbsp chopped almonds
1/4 cup diced onion
1/4 cup plain greek yogurt
pinch of salt & pepper
squeeze of lemon or lime juice
optional add-ins: sliced grapes, pinch of garlic powder
Directions:
1. Shred an entire rotisserie chicken into mixing bowl & set aside
2. Chop the celery, apples, onion & almonds into small pieces & add in dried cranberries
3. Combine the chopped ingredients & rotisserie chicken and stir in greek yogurt
4. Season with salt & pepper to taste
5. Serve over spinach/romaine lettuce or on a croissant roll
I love how simple this recipe & better yet how guilt-free it is without all of the mayo that's normally in a greek salad. You truly don't miss it because of all the great flavor from your ingredients. You can really experiment with adding different ingredients into the mix.
I'm looking forward to sharing some more of my favorite busy girl recipes! What are your go-to's during the chaotic work week?
xoxo, lauren