I was born to be a a dreamer & a doer.. it's in my blood! As a little kid I was always starting up businesses selling knick knacks to my neighbors I'd whipped up in my grandma's garage, starting organizations (save the manatee club.. where at age 10 I'd yell at boaters speeding through no wake zones- true story), and as I got older organizing fashion shows for charity.
I am so inspired by all the entrepreneurs and start-ups in the fashion and design community. I wanted to highlight a few of my favorite women who are doing big things!I think it's a true testament of chasing your dreams and finding success doing what you love.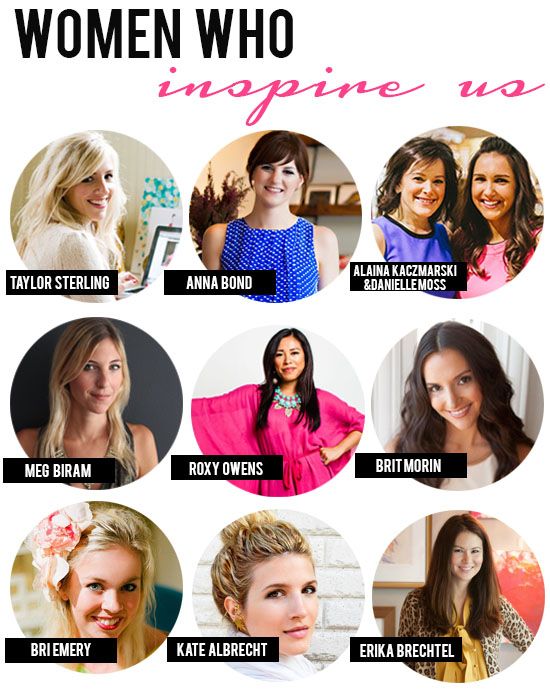 The Women Who Inspire Us:
Taylor Sterling, Founder of the Glitter Guide: I love the daily inspiring content that comes from the Glitter Guide editorial team- from fashion to entertaining to beauty
Anna Bond, Owner of Rifle Paper Co: I literally credit Anna for popularizing snail mail again with her illustrated cards and paper goods, her work has even made it's way into Target this Spring
Alaina Kaczmarski & Danielle Moss, Founders of the Everygirl: The site is a go-to guide for everyone making the transition to the "real world" from creating a budget to pantry essentials
Meg Biram, Blogger & Digital Marketing Consultant at MegBiram.com: Meg is a serious jack-of-all-trades from graphic design to business know-how, including her newly launching site"the bbar"
Roxy Owens, Owner of Society Social: I credit Roxy's online boutique for literally reviving the bar cart trend and her design influence is a force to be reckoned with
Brit Morin, Founder of Brit.Co: Brit is the Martha Stewart of Silicon Valley- bringing her google background to her site mixing fashion, technology, DIY & more
Bri Emery, Founder of Design Love Fest: I love Bri's quirky style & amazing, colorful graphic design talent- you've probably seen her face partnering with brands like Gap + Benefit Cosmetics
Kate Albrecht, Founder of Mr. Kate: Kate is a fashion & interiors DIY extraordinaire with a jewelry line and often seen sharing her secrets on Oprah's OWN Network & the Nate Berkus Show
Erika Brechtel, Owner of Small Shop Studio: Erika, owns a blog & 10 year old brand styling studio helping to brands with everything from logo & branding to website development to packaging
One of my favorite features of
La Petite Fashionista Magazine
are the pieces on Women in Business. Reading about the success of these lovely ladies is so empowering! I can only hope to make La Petite Fashionista a household name some day!
xoxo, lauren